Cork's Business Association Awards 2020
This year we are delighted to announce that Cork's Vienna Woods Hotel has been nominated for not just one but two awards in the CBA Cork's Business of the year awards.
We have been nominated for the following awards:
-Cork's Best Family Business
-Best in Tourism, Arts and Events
It is a great Honour to announce this and to be nominated for such prestigious awards.
As every vote counts we would sincerely appreciate your vote.
In February 2020, Cork's Vienna Woods Country House Hotel was the host venue for the Cork Business Association Awards finals for 2019.
The overall winners were announced here at Cork's Vienna Woods Hotel at a black-tie president's dinner. Michael Magner took the initiative to get together the best chefs Cork has to offer and provide an incredible evening for the awards. The event included a special chefs of Cork dinner. Chefs from seven hotels all over Cork worked together to showcase a 7 course dinner, whilst still representing their hotel and restaurant.
In addition, the event showcased the local produce and suppliers which can be found in and around Cork. Without having the knowledge of this being the last event of 2020 in Cork's Vienna Woods hotel, the event was a huge success.
The seven chefs from the various hotels are pictured below, including Adrian Hillgrove our very own executive chef. The other chefs from Cork were Martin O'Mahony of Cork International Hotel, Stuart Dardis of The Metropole Hotel, Niall Mooney of the Maldron Hotel, Trevor O'Keeffe of the Cork Airport Hotel, Fern Allen of The Ballymaloe house, and Peter Hennessy of the Carrigaline Court Hotel.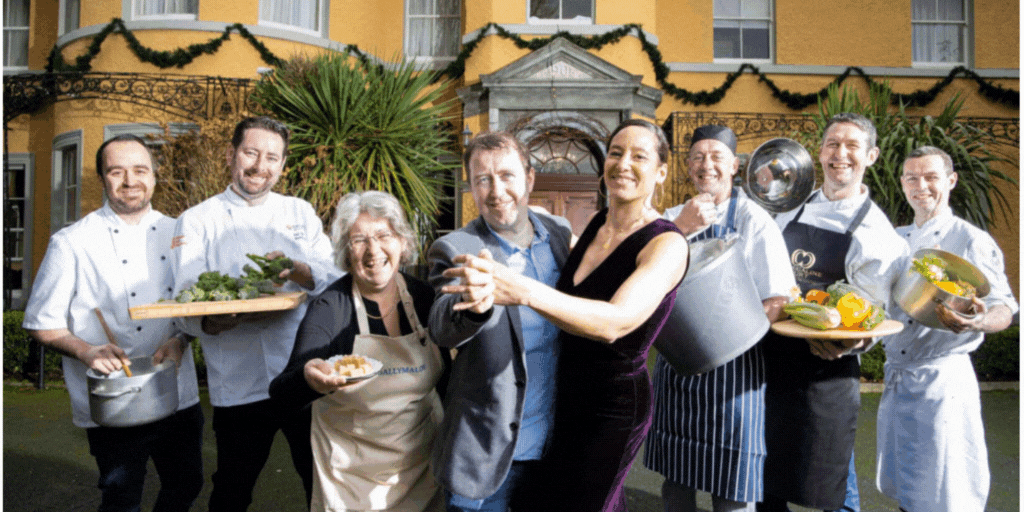 More about the Cork Business Association
The Cork Business Association is a non-profit organisation, the organisation acts as a strong voice for the business community of Cork City.
The Cork Business of the year awards and the annual Gala dinner which was hosted in Cork's Vienna Woods Hotel last year is an event not to be missed. This Annual Gala dinner highlights the local businesses in Cork and promotes and supports them.
This year the annual Gala dinner will be held virtually, in light of the government restrcitions.The CBA Awards will be holding a vitrual President's Dinner, The President's Taste of the City at Home Dinner. The event will be held on Saturday the 17th of April 2021.
Check out more information on this years CBA Cork Business of the year awards here.