While our doors were closed for guests and we could only offer accommodation to essential workers, our team was working hard on a new and updated A la Carte menu for our beloved and award-winning Mabel Crawford's Bistro.
Our A la Carte menu has truly something to offer for everybody, we also cater to any dietary requirements like coeliac disease and most other requirements.
We now truly have various offers for everybody ranging from various different starters, main courses, desserts and side orders.
Some of our new menu items include a new starter of Fricasse of Wild Irish Forest Mushrooms. This new and exciting starter includes toasted olive bread, white wine, parmesan cheese, seasoned greens, double cream and basil oil. This is a starter like no other! The menu item contains allergens such as gluten, eggs and milk.
We now have a vegetarian option on our menu which is the main course of our very own Vienna Woods Veggie Falafel Burger with Hummus and Chips. This new main course includes a brioche bun, tahini, shallots, organic leaves, cumin and chickpeas. The burger contains allergens such as gluten, eggs, peanuts, soybeans, nuts, celery and mustard.
For our side orders we have added on Marinated Olives in Herbs, Garlic and Virgin Oil. This new side order includes a selection of breads and toasted crackers to pair with. Allergens included in this side order are gluten, eggs, milk, celery, mustard and sesame seeds.
Lastly we now have a new dessert on our A la carte menu which is the Irish Rhubarb and Rosewater Panacotta. This dessert also featured on the Cork Business Association, Cork's Business of the year awards presidents dinner. This dessert includes a homemade cookie, honey and rose water and a vanilla pod. Allergens in this dessert are gluten, egg, milk and nuts.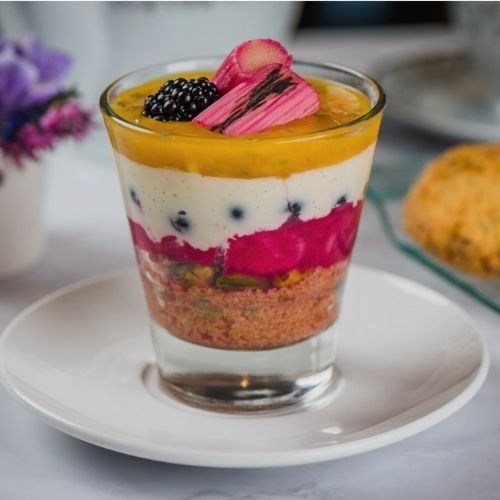 Check out our full A La Carte Menu Here.