Cultural
Old Jameson Distillery, Midleton
Jameson whiskey is world renowned in Ireland. The old Jameson Distillery allows you to jump into to the history with a Jameson Experience Tour.
Midleton is probably most famously known by the famous Old Midleton Distillery which is home to Jameson Whiskey. The Jameson tour commences with an audio-visual presentation. Guests accompanied by a tour guide follow the OLD Distillery Trail through various historic and architecturally unique buildings. The visitor can encounter restored machinery and dramatic recreations of the steps of whiskey production.
Each visit ends in the Jameson Bar with an Irish whiskey tasting session where you will have the opportunity of becoming a qualified Irish whiskey taster with a presentation diploma. Afterwards you can relax in the restaurant which specialises in country farmhouse fare or perhaps have a browse in the gift shop and craft shop.
T: +353 (0) 21 461 3594 E: midleton@jamesonwhiskey.com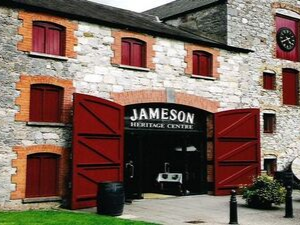 Crawford Art Gallery
Crawford Art Gallery is a National Institution and regional art museum for Munster. If you enjoy visual arts, both historic and contemporary this is the place to be. With ongoing and changing exhibitions there's always something new to see or you could come back and see your favourite. That is not all it has to offer with talks, events and learning there's always something to delve into. Located in the heart of the city it is a critical part our city's history and culture.
The Crawford Art Gallery offers a range of free, family-friendly activities every Sunday, including guided gallery tours, musical performances, kids' art workshops and storytelling sessions.
Vienna Woods has a connection to Crawford Art Gallery. The uncle of AF Sharman Crawford previous of owner of Vienna Woods Country House Hotel funded the extension of the old Custom House at Emmet Place and donated many works of art to the new school.
T: +353 (0) 21 480 5042 E: info@crawfordartgallery.ie
Admission: Free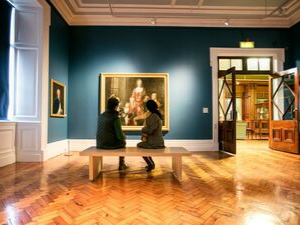 St. Fin Barre's Cathedral
Cork's Anglican Cathedral is situated in the centre of Cork City. Designed by William Burges and consecrated in 1870, the Cathedral lies on a site where Christian worship has been offered since the seventh century.
Its magnificent interior includes stained glass windows depicting scenes from the Old and New Testaments, its marble mosaics from the Pyrenees and the beautiful sanctuary.
T: +353 (0) 21 496 3387 E: cathedral@cork .anglican.org
Check the website or contact the Cathedrals Office in advance.
Blackrock Castle Observatory
Blackrock Castle with its towers and gunnery warded off invaders for more than 400 years and guided ships safely into port. Nowadays it's a research observatory and science centre with a wide variety of exhibits to discover and explore including planetarium shows and interactive exhibits. With permanent and visiting attractions, you can come back and see your favourites and can see something different every time. Blackrock Observatory is perfect for both science and history lovers.
T: +353 (0) 21 432 6120 E: info@bco.ie w: www.bco.ie
Cork City Gaol
The magnificent castle is now a major and unique visitor attraction. This Gaol once housed 19th century prisoners. Visitors get a fascinating insight into day to day prison life at a time when the high walls ensured no escape and denied law abiding citizens the opportunity to see one of the finest examples of Ireland's architectural heritage. It housed both male and female prisoners who committed crimes. It closed in 1923 to never hold a man or woman prisoner ever again. Only 4 years later Radio Eireann used it for a broadcasting station making it Cork's first radio station until the end of the 1950's. It wasn't until 1993 that it was restored into a visitor attraction that is today. This restored prison is furnished with life size wax figures, fascinating sound effects and exhibitions telling the history of the prisoners and why they turned to crime.
T: +353 (0) 21 4300 5022 E: Info@corkcitygaol.com w: www.corkcitygaol.com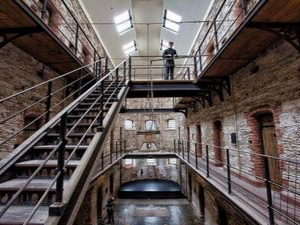 UCC
UCC's campus is full of many interesting buildings and features. From the Lewis Glucksman Gallery in the Lower Grounds to the Stone Corridor of the Main Quadrangle to the Crawford Observatory, UCC is a great place to spend a few hours. The stone corridor of the Main Quadrangle boasts of the largest collection of Ogham stones on public display in Ireland
UCC is already a popular tourist destination and new audio tours taking in the history and culture of the University are available from the Visitors' Centre for purchase.
It first opened as a University in 1849 when only 115 students enrolled a big difference with thousands of students enrolled today.
T: +353 (0) 21 490 1876 E: visitorscentre@ucc.ie
w: www.ucc.ie/en/discover/visit/centre/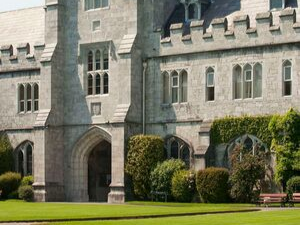 The Butter Museum
Experience the great success story of Butter Trade in Ireland, learning about great brands like Kerrygold and Dairygold. Located in the historic Shandon Area of Cork city the museum tells the story of butter trade in Ireland and the traditional craft of home butter making. On certain dates you can experience a live butter making demonstration.
The Lewis Glucksman Gallery
The Lewis Glucksman Gallery is a cultural and educational experience located at the main entrance to University College Cork on the Western Road. It is an award-winning public gallery that includes exhibition spaces, a riverside restaurant and gift shop. The gallery promotes the visual arts through research, creation & exploration. Experience the different exhibitions and collections or even a bite to eat at their restaurant.
T: +353 (0)21 490 1844 E: info@glucksman.org w: www.glucksman.org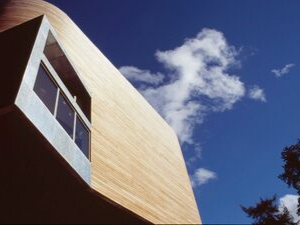 Elizabeth Fort
Located on Barrack Street, Cork City, Elizabeth Fort is Cork City's 17th century star-shaped fort built in the aftermath of the Battle of Kinsale. Learn about the history of fort including how it served to reinforce English dominance and protect the walled city of Cork. It has been many things from a military barracks, a convict depot, a food depot during the Famine, a RIC station, and most recent a Garda Station. Learn about all this History at Elizabeth Fort and experience the scenic views of Cork City.
T: +353 (0)21 497 5947 E: info.elizabethfort@gmail.com