Cork On Ice
Cork on Ice have been hosting their annual ice rink for 12 years now. Thousands of people come from Cork and further to the Ice Rink that is usually held at Mahon Point Shopping Centre. This year there has been a change of location and it is now at Centre Park Road (where Live at the Marquee is held). It is open from the 22nd of November to the 26th of January. There is plenty of free parking to avail of and a few cosy stalls from sweet treats. They really have thought of everyone at Cork on Ice. There is a large rink for adults, a small rink with penguins for the little ones and they now host events such as the penguin club, skating with Santa and student night.
Glow and Christmas Markets
Each year Cork City pull out all the stops when it comes to Bishop Lucey Park- they call it Glow. The Christmas Festival is not one to be missed. There is the magnificently lit up Cork Park along with an abundance of food and Christmassy stalls. There is plenty to see and do in Cork with the Fantastic Park, the giant Ferris Wheel, all the splendid foods and festive Christmas music and drinks. Be sure not to miss out!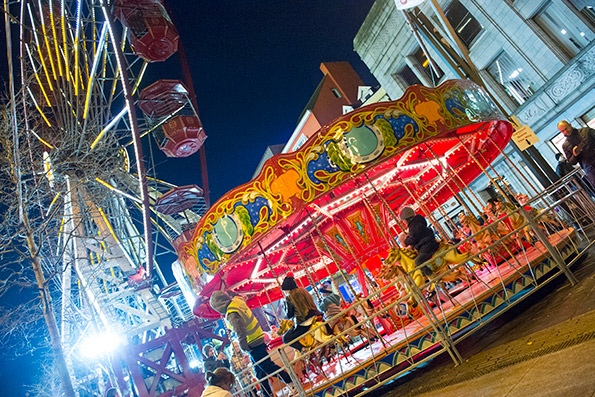 The Pantomime
Cork is known for its annual pantomime which is on in the Cork Opera House. This year they are presenting- Peter Pan, an old time classic. It is running from the 28th of November to the 19th of January 2020. Going to the panto is a classic family event at Christmas time. Families can enjoy this favourite tale, which comes to life through a series of songs and fantastic costumes. Don't forget to get your tickets in advance to avoid disappointment. They can be bought here.

Rumley's Winter Wonderland
Rumley's Farm Christmas Experience is one not to be missed this year. It is a four-acre farm in dazzling surroundings of twinkling lights. The kids get to experience climbing aboard Santa's Tractor Sleigh and see all the animals and greet Santa's reindeer. There is also an array of arts and crafts to play with.
Kids get to write their letter to Santa and give it to one of Santa's little elves to post. Then meet the Mrs. Claus as she prepares for the annual sleigh ride on Christmas Eve. They offer parents a FREE glass of mulled wine or tea/ coffee to keep warm while the small ones have fun. Santa will then meet the children and give them a small present. Rumley's also offer a lovely café where you can buy lunch or refreshments.

Improvised Panto
If you are looking for something quirky to do and the main panto isn't for you then this could be right up your alley. A different panto every night- all improvised and made up on the spot, nothing is prepared or scripted. It is known to be both hilarious and outrageous all the same. It is on the 6th to the 23rd of December in the Opera House you can purchase tickets here.

There is so much to do in our amazing city, contact a member of our team who would be delighted to plan your Cork Experience. All you need to do is book in with us at Cork's Vienna Woods Hotel at (021) 455 6800 or email us at reservations@viennawoodshotel.com