Cork's Vienna Woods Hotel 'What To Do Before You Say I Do' Wedding Webinar Series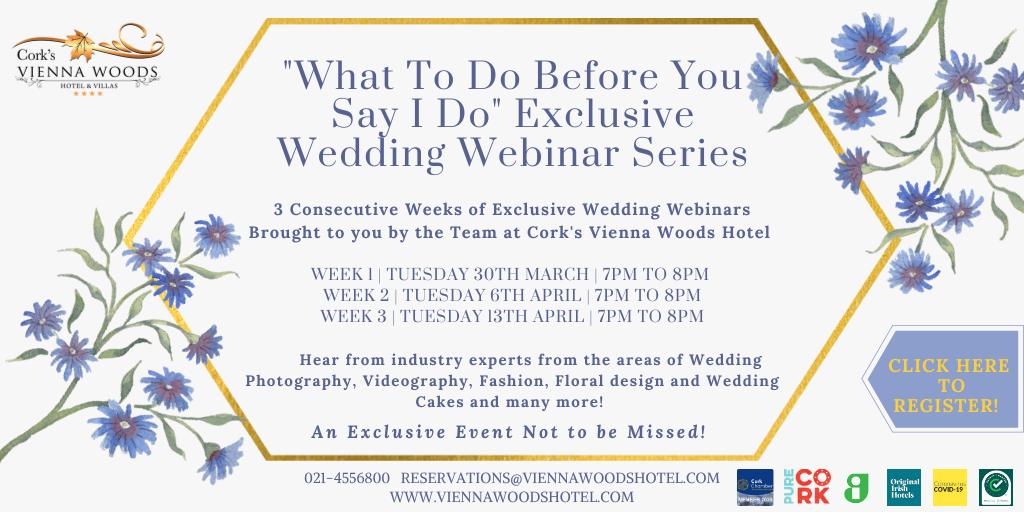 We will be hosting a three-week Wedding Webinar Series for newly engaged couples so they know 'What to do before you say I do'.
Each Tuesday, starting on March 30th from 7 pm - 8 pm we will have different panelists giving their tips and recommendations of when, how, and where to book for your Wedding.
To register for the wedding webinar click here.
March 30th:
Panelists include;
John Sexton - Photography
Denis McCarthy - Videography
Gerard Kearney - Entertainment
Michael Moloney - Band & DJ
April 6th:
Panelists include;
Dee Kelly Morgan - Fashion Trends
Steph Barry Woods (Stephmylife) - Honeymoon Planning
Tracy Desmond Bell - Trace of Cakes
Dawn & Dale - Couple testimonial of their experience booking their wedding
April 13th:
Panelists include;
Adrian Hillgrove - Chef's Recommendations
Elizebeth Cott - Floral Design & Trends
Steph Barry Woods (Stephmylife) - Honeymoon Planning
Aisling & Ritchie - RSVP Wedding of the Year
Clara O' Mahoney - Digital Media
Recording of Week 1
Recording of Week 2
Recording of Week 3